Our hands, feet, ears and head contain reflex points that correspond to every area and organ in our bodies. Reflexology charts show you what looks like a map of your body organs and glands with nerve endings that correspond to each organ, gland and area of the body.
Applying pressure to these specific points or areas stimulates the organs and areas of the body to help remove blockages, gives them a boost, and tells them to begin working. Reflexology also works to get the circulation flowing in specific areas of the body and can help break up congestion within the body that is keeping the circulation from flowing freely.
Tender spots are indicators of blockages within that particular area or organ. Blockages do not necessarily mean that there is something terribly wrong, but that the area of the body needs a bit of attention. and needs energy flowing. Sometimes a congested or a blocked area will feel tight or thicker and less pliable.
Other areas may have the feeling of a knot or like that of a small BB or hardened pellet under the skin. These are referred to as crystals. Once the crystals or tight areas break up or loosen up by pressing or applying pressure with the thumb and fingers, it allows circulation (energy) to flow freely. Imagine it as drinking a smoothie through a straw and as you drink a piece of fruit gets stuck in the straw keeping your drink from flowing though. Once you break up or remove that blockage, everything can flow freely once again.
Reflexology has also been found helpful in stimulating the lymph to flow and stimulating the
bowel to function. Reflexology opens the neural pathways by reducing stress and calming the body and mind which stimulates the body to heal.
There is a "vital energy" in the human body. If stress is not addressed, it leads to congestion of energy, which in turn causes bodily inefficiencies, which can lead to illness. This is what the Chinese call CHI energy. The zones are similar to, but not the same as meridians found in Chinese medicine. However, there are some correlations between meridians and location of organs on the feet and ankles.

The reflexologist's application of pressure to feet, hands, or ears sends a calming message from the peripheral nerves in these extremities to the central nervous system, which in turn signals the body to adjust the tension level. This enhances overall relaxation, brings internal organs and their systems into a state of optimum functioning, and increases blood supply (which brings additional oxygen and nutrients to cells and enhances waste removal). It positively affects the circulatory, respiratory, endocrine, immune, and neuropeptide systems in the body.
Reflexology can produce pain relief through the gate control theory, or, the neuromatrix theory of pain. This theory suggests that pain is a subjective experience created by your brain. The brain does this in response to the sensory experience of pain, but it can also work independently of sensory input and create pain in response to emotional or cognitive factors. Thus things that influence the brain, such as your mood or external factors like stress can also affect your experience of pain. According to this theory, reflexology may reduce pain by reducing stress and improving mood.
Reflexology dates back to ancient China, Egypt, India and Japan. The re-discovery of reflexology is accredited to Dr. William Fitzgerald who in 1913 titled it Zone Therapy. Dr. Edwin F. Bowers and Dr. George Starr White also wrote books on reflexology. Another doctor, Dr. Joe Riley, had a student, Eunice Ingham,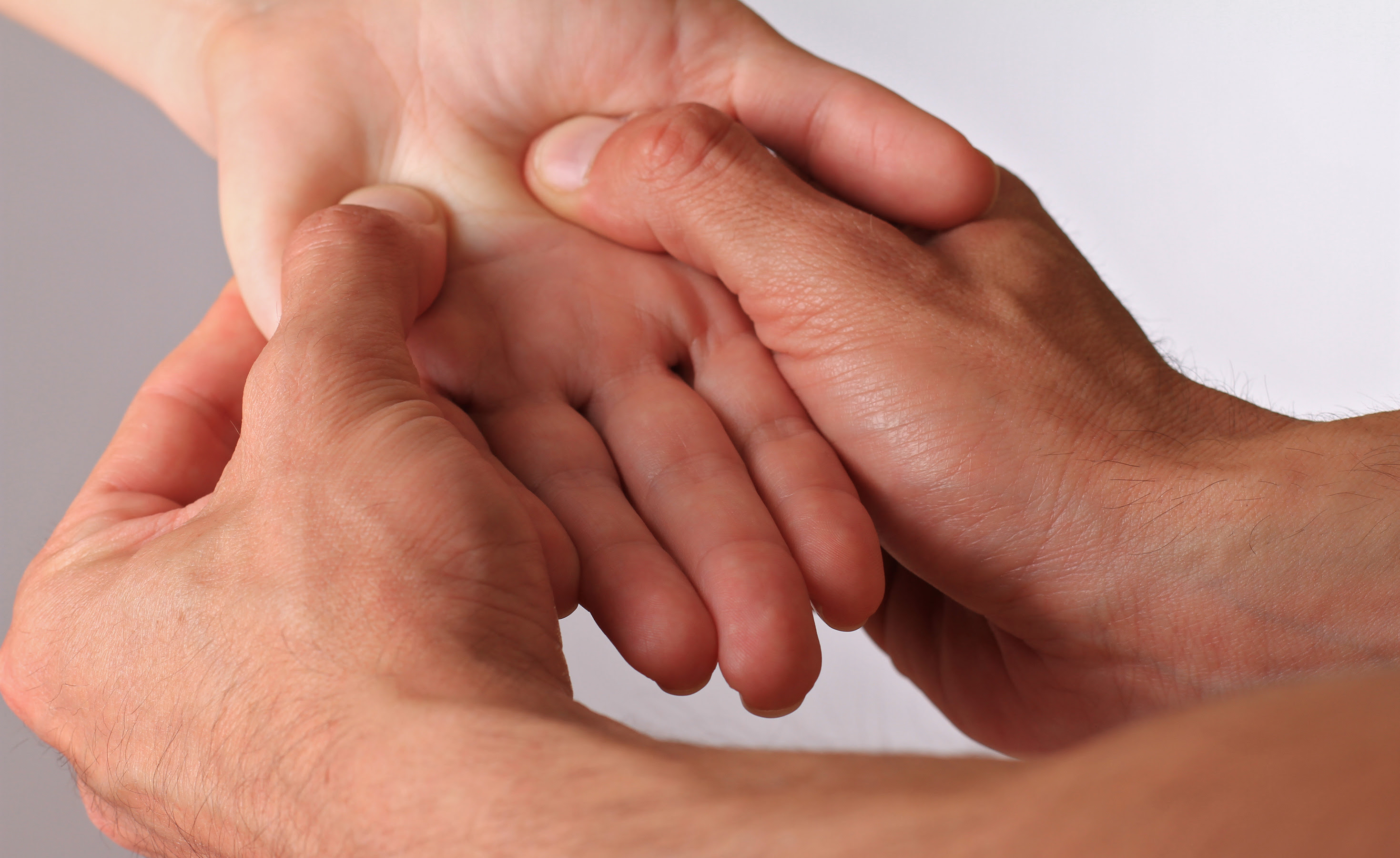 who was very interested in Dr. Fitzgerald's method. With the encouragement of Dr. Riley, Eunice continued to improve and advance reflexology and to take her method to others. Ms. Ingham wrote her first book, Stories the Feet Can Tell, in 1938. As opposed to Fitzgerald's technique of using the reflex points to numb certain areas, she found that stimulating the reflex areas produced healing.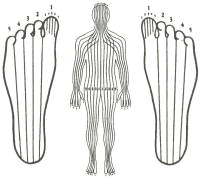 Zone theory
The recognition of reflexology as a specific type of treatment began with Zone Theory, in which the body is divided into 10 vertical zones. Each zone corresponds to fingers and toes all the way up to the top of the head. For example, if you are standing up with your hands on your thighs (palms facing down) the thumbs and great toe would be zone 1. On either side of the body, the index finger and second toe would be zone 2, etc.
In reflexology theory, every organ, valve, muscle, etc. that lies within a zone can be accessed via a point or area on the feet or hands. For example, working between toes 2 and 3, or fingers 2 and 3, the eye point is found. These pathways between pressure points and other parts of the body are thought to be connected via the nervous system.
Essential Oils and Reflexology
Essential oils are usually applied to the feet. By using the reflex points and specific essential oils that correlate to healing that area, you will find that your family members or clients will find improvement to conditions that are bothering them. Essential oils that help the

brain

can be applied to the big toes (Frankincense, Rosemary, Geranium, Vetiver) for conditions like depression, lack of concentration, anxiety and hyperactivity. Eucalyptus and Lemon can be applied to the chest reflex points for respiratory conditions. Dill, Ginger, Peppermint and Spearmint can be applied to the stomach areas for nausea and stomach ache. Cypress to the leg areas (circulation), Birch and Lemongrass to the entire bottom of the foot for foot pain conditions (plantar faciitis), and oils like Tea Tree, Rosemary, Ravensara, Thyme and Oregano for
pathogens (illness).